"Cheaper than a movie! More fun than the gym! Meet a lot of nice people!"
-Kelly
Stumptown Dance is proud to host Sunday Swing; Oregon's largest, weekly swing dance that is well reputed in Portland and beyond. Many people find great enjoyment at this event on a regular or occasional basis and we think you will too.
Sunday Swing is first and foremost a social dance! Our lessons and music are tailored to help aspiring and proficient dancers find the joy and exhilaration of a room full of happy people, all moving to the same (or close to the same) beat with the influence of each person's unique style. Our average attendance is 175 fun loving individuals of all ages, varying from no prior experience to professionals.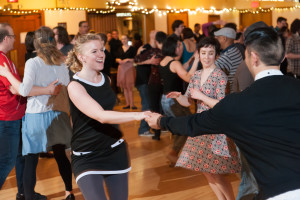 Schedule
6:30 PM – Intermediate Plus Lessons info HERE.
7:00 PM – Intermediate Swing Drop-in lesson
7:30 PM – Beginning Swing Drop-in lesson
8:00 PM – 11:00 PM – Music & social dancing
9:30 PM – "Birthday" jam
Other Important Details
$10 Cover (Save $2 w/valid student ID) -Cash or check only
Norse Hall 111 NE 11th Portland, OR 97232
ALL levels! ALL ages! No partner needed!
Dress Up Night- last Sunday of every month
Theme nights & holidays are extra fun!
WE DANCE EVERY SUNDAY!!! (unless there's a blizzard or Christmas Day falls on a Sunday. See temporary venue change details below.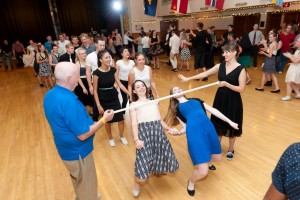 1 DAY VENUE CHANGES
April 29th, 2018
July 22nd, 2018
October 14th, 2018
November 4th, 2018
November 11th, 2018
On the above listed dates we'll dance at the lower Melody Ballroom (615 SE Alder Portland, OR 97214) -Use the front door on Alder & go downstairs. On all other Sundays we'll dance at the Norse Hall (111 NE 11th Portland, OR 97232)
---
Lessons at Sunday Swing
Many people come to Sunday Swing with no prior experience and we love that! Our beginning Swing lesson is a wonderful combination of silly fun and down to earth basics that people return to weekly, to meet other aspiring dancers and refine their basics. You may quickly observe that we encourage dancers to periodically return to the basics to pick up the many intricacies that are easily missed or forgotten.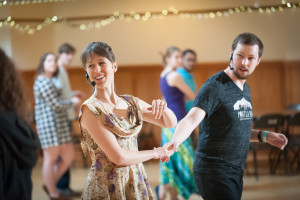 7:30 PM Beginning Swing Drop-in lesson
Instructors: Mindy Barnhart & Sam Estrem or special guest
Description: This lesson is the same every week. We teach a simple East Coast/6-Count Swing basic (triple time- for anyone who knows enough to care about that detail), a Tuck turn and an Inside turn from open to closed positions and we'll throw in a few tips on how to succeed at social dancing. If you already participate at the "Intermediate" level, you're welcome to jump in on this lesson to encourage new dancers and help with the flow of partner rotation. However, we ask that you refrain from "teaching" during lessons because that distracts people who are trying to listen to the instructors.
7:00 PM "Intermediate" Swing Drop-in
Instructors: Mindy Barnhart & Sam Estrem or special guest
Description: In this class, we teach a different lesson each week for a month and then repeat those lessons monthly. To participate, you will be expected to know the East Coast/6-Count Swing basic, Tuck turn and Inside turn from the Beginning Drop-in. We will build gently on these skills but will not teach them in this class so we recommend taking the 7:30 PM Beginning lesson for a month or so before attending this class, if you don't already know these foundational basics.
Monthly "Intermediate" Drop-in Schedule
1st Sunday: Send out from closed position & switch to right to right hand hold, Frisbee toss catching left to right, back to closed position
2nd Sunday: One-handed Tuck turn, catch w/both hands & do a Basic in open, 2 handed Free spin, back to closed position
3rd Sunday: 30's Charleston basic, getting into and out of 30's Charleston from East Coast Swing, Charleston slide variation
4th Sunday: Inside pass-by catching in right to right hand hold, Cuddle variation, Tuck turn variation out of the Cuddle, back to closed position
5th Sunday: 20's Charleston basic, Kick throughs, Outside turn, getting into and out of 20's Charleston from East Coast Swing