"Talent is a pursued interest. Anything that you're willing to practice, you can do."
-Bob Ross
Learn new basics or take your dancing to the next level in Lindy hop, 6-Count/East Coast Swing, Charleston or Balboa. Mindy would also love to help you choreograph your special wedding dances so you can step on the floor with confidence and style! We will progress at your pace and work on what you want to work on for an entire hour. You can't go wrong here!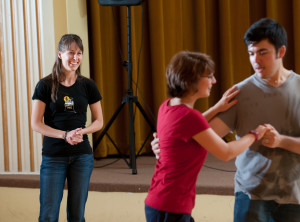 Types of Private Lessons & Pricing*:
Schedule by emailing info at StumptownDance.com (include your phone #).
For 1-2 people
The best value if your goal is to learn as much as possible in as short amount of time as possible.
$65 -1 hour
$275 -5 hour package ($50 savings)
$500 -10 hour package ($150 savings)
Small Group of 3-4 people
Want to learn together with a few of your friends?
$25 per person per hour (i.e. 3 people for one hour would pay $25 each or a total of $75)
Large Group of 5-12 people
$100 -1 hour
$120 -90 minutes (minimum of 4 lessons)
Huge Group of 13+ people
With any more than 12 people, we are talking about a party and you should see our private events page for more options.
School Groups
This is for school groups (elementary through college) that want multiple lessons on a semi-long term basis. We do not have fixed rates for this yet so feel free to email us to start a discussion about how we may be of service to your school group.
*Lessons are non-refundable.