"My favorite day of the week is Monday because of the Guided Practicum!"
-Daniel
Never get bored with your dancing! Be prepared to have your ideas stretched and your comfort zone challenged a bit. To get the most out of the Guided Practicum, you should have a little self-motivation and a teachable attitude. We won't spoon feed you but we would LOVE to lend a helping hand (or foot) to anyone and everyone who is willing to help them-self!
At social dances, instruction and feedback are generally considered impolite. The friendly, safe atmosphere of the Guided Practicum, provides an opportunity for you to ask for those bits of feedback that can really make the difference in your total dancing experience!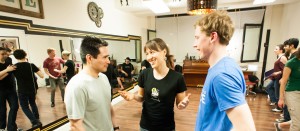 Details
7:30 PM – 9:30 PM Come and go at any time.
$8 Cover (Save $2 w/valid student ID) -Cash or checks only
Oak Street Building Suit 104 232 SE Oak Portland, OR 97214
ALL levels! ALL ages! No partner needed!
EVERY MONDAY!!! (unless there is a blizzard or Christmas Day falls on a Monday)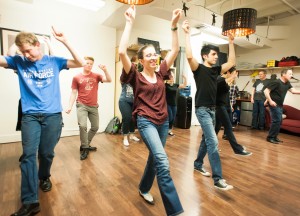 What to expect
At the Guided Practicum, you'll be met by a friendly front desk volunteer who can help you sign up (first come first serve for up to ten minutes) for individual or small group assistance from one of our capable instructors or student teachers. You'll be asked what you want to work on and the more specific your answer, the better we can assist you and the more people we can help. If you really don't know what to ask for help on, the volunteer can suggest possible topics. We do our very best to get to everyone who signs up for help but we can't guarantee that will always happen.
While you await your turn with an instructor, you'll have the opportunity to dance with anyone who's there. Our average attendance consists of about 25 eager to learn and share individuals varying from zero prior dance experience to professionals. We keep the music volume a bit low so dancers can hear each other as they discuss turns, posture, styling, the Shim Sham, etc. That means, you may want to dance in different parts of the room to be closer or further from the music at any given time. This is your night and that is one way you can take charge of your own experience.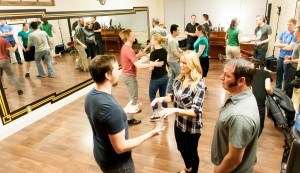 We feel extremely privileged to host this unique, weekly event where our instructional efforts regularly lead to significant breakthroughs for Guided Practicum participants!