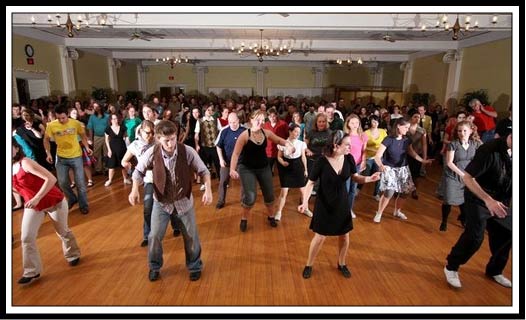 Weekly Dances
…it all starts with Sunday Swing
3 hours of social dancing, 2 lessons thirty minute lessons, 1 fun move of the week and as much fun and as many memories as we can possibly fit into Oregon's largest weekly swing dance! More info
HERE
.
Note- We dance at the Norse Hall (111 NE 11th) EVERY Sunday (including holidays & in bad weather) unless otherwise noted on this page!
2015 VENUE CHANGE DATES:
Venue changes are to the Melody Ballroom (615 SE Alder) unless otherwise noted. Use the side door on 6th & go downstairs.
April 19th, 2015 NO SUNDAY SWING – Go to the Portland Lindy Exchange!!!
October 11th, 2015
November 8th, 2015
---
…our second most popular weekly event- the Guided Practicum
Stumptown Dance hosts a guided practicum, where you can receive individual attention as well as have time to incorporate the things you are working on into your social swing dancing. Instructors, Mindy Barnhart and/or Sam Estrem are available to help!! On the social dance floor, instruction/feedback is generally considered impolite. The friendly, safe atmosphere of the practicum, provides an opportunity for you to ask for those little bits of feedback that can really make the difference in your total dancing experience. All ages! No partner needed! All levels welcome! See more info
HERE
.
Note- We dance at the Melody Ballroom (615 SE Alder) EVERY Monday (including holidays & in bad weather) unless noted on this page!
---
Our sister dance, the Portland Lindy Society's Thursday Swing*
All ages happy hour show (6:00-8:15):
6:00-6:30 PM Beginner** Drop-In Lesson
6:30-8:15 PM Dance to Live music or a DJ
$5 cover
Late show (21+ 8:30-11:00):
8:30-9:00 PM Beginner** Drop-in Lesson
9:00-11:00 PM
$7 Cover
Note- 21+ can attend both sets for $10.
Secret Society Ballroom 116 NE Russel St. Portland, OR
*Thursday Swing is run by our sister organization The Portland Lindy Society and is not a Stumptown Dance event, but we strongly encourage you to attend if you are looking for more opportunities to dance and learn. They don't have a website but they are on Facebook.
**These "beginner" lessons vary in level from week to week because there are different instructors each week.